Even before you decide which of the many varied dishes from the rich Dalmatian manu you are going to enjoy, you should try a grape or herb Dalmatian schnapps. The choice among the culinary specialties will thus be made easier for you!
Characteristic of Dalmatian coastal cuisine is its digestibility and simple preparation. The secret of the fabulous taste of fish, mead, or other cooked dishes lies right in that. Yet the idea that simplicity means everyone everywhere could prepare them would be deceiving. The tradition of grilling and roasting fish and delicaties of the sea in this region has been carried on from generation to generation, whereby the proper grilling technique often depends on the type of wood or wood briquets chosen to do the grilling. In addition to this comes the tantalizing Dalmatian olive oil, grilling technique (gradelavanje), and the particular taste of the fish and delicacies of the sea.
This is what leaves every visitor to Dalmatia once they have tried if with unforgettable memories to take back home. Nevertheless, no matter how much you eat in Dalmatia, you´ll hardly gain a pound. Most of the Dalmatian specialties are prepared with very little fat and oil. They are easy to digest and dontain many vegetables which thrive all the year round thanks to the mild climate.
The region prides itself on a wide variety of specialties, and every good cook will tako great pains to procure the freshest fish and delicacies of the sea, which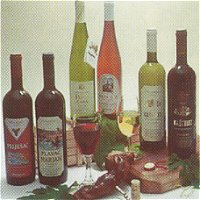 you can personally inspect before ordering in all of the better restaurants. Don´t pass up dishes like mussels, shrimp (scampi), roast fish, delicious fish stew with rice, and meat specialties like sour marinated beef (pasticada) with noodles (njoki). To top it off we recommend a reifend dessert like "krostule", egg cake (rozata), or of the rich Dalmatian tortes.
Further essential ingredients used in Dalmatian cooking are raw ham, "Prsut", dried in the fall wind (Bura) and smoke of the dalmatian back country, sheep´s cheese, salty sardines, roasted lamb, beef cooked in tomato sauce (salsa), and sauteed greens with potatoes. Also do not forget the wine, known for its special taste of the south, which has been cultivated for centuries in the caring hands of wine makers in the rocky Dalmatian soil. The secret recipes for winemaking are passed fown from generation to generation in middle Dalmatia, and are produced in the families´ wine cellars, as well as in those of private enterprises.
Among the top quality red wines are Postup, Faros, Babic and Bolski Plavac, and among the first class whites are Pošip, Grk, Bogdanuša, and the well known sweet desert wine Prošek. Even the region´s drinking water which flows from the rivers Jadro and Cetina, and supply the needs of the country is a speciality. Thanks to its purity and pleasant taste it is considered not only to be healthy, but is also mixed with wine to create the so called "Bevanda".
Dalmatian brodetto (fish-stew)
INGREDIENTS: 1 kg various fish (rock-fsh, sea-bass, conger-ell, tuna-fish, etc.), 1/8l olive oil, 1 onion, parsley, salt, pepper, several fresh tomatoes, 1 tea spoonful tomato juice, vinegar
The best brodetto is made using assorted fish of various kinds, e.g. rock-fish, dent-fish, sea-bass, dory, congercel and tuna. Cut the bigger fish into slices, leaving the smaller ones whole. Use 1/8l of olive oil per kilo. Fry a dhopped onion in oil, add fish and fry it a while, adding chopped garlic and persley. Put in some salt and pepper and 1 tea spoonful of concentrate tomato juice and, depending on the season, some sliced fresh tomatoes. Cover the fish with water and let it boil before adding the vinger. Cook for 1-1,5 hours, letting it simmer over a low fire. Do not stir - shake the casserole gently instead so that the ingredients should remain in layers in the same order they have been added. Brodetto is best served with boiled maize-flour (corn meal), rice or spaghetti (pasta).

Arambašici (kraut rolls, speciality from Sinj)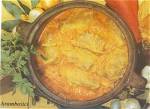 INGREDIENTS: 600 g beef-150 smoked har - 50-60 g suet from ox kidneys - 200 g pork - Beefbone - smoked pork - mutton - raw ham or smoked tongue - broth of water - 2 large onions - some garlic - cloves - grated lemon rind - salt and pepper - some ground cinnamon - 2-3 crushed cloves - 1 grund nutmeg - 1 head of sauer-kraut (or fresh white of grape leaves)
Apart from other ingredients, fresh sauerkraut is the most important for good and tasty Arambašici. Finley chop 600 g of choice, savoury beff (best from the neck), 150 g home-made bacon, 50-60 g of suet from kidneys and 200 g of fresh pork. Chopping the meat is better than running through a grinder, and in this way it retains more of its flavour. Next add the chopped onions, garlic cloves, grated lemon rind, salt and pepper, a little cinnamon, crushed cloves and ground nutmeg, and knead eith hands mixing all the ingredients well. Separate the leaves from the sauerkraut head, putting aside the better ones for stuffing. Cut away part of the leaf stalk at the base. Add a spoonful of the meat mixture to each kraut leaf. Roll the Arambašici from the base of each leaf, and fold the ends together well so that they do not fall apart during cooking. Put 1 spoonfull of grease in a deep stoneware casserole and add the rest of the kraut leaves, a beef bone, and perhaps strew a little smoked mutton of smoked pork over the kraut rolls. Pack and layer the Arambašici rolls tightley next to one another in the casse-role, layering smoked meat, or even better, homemade smoked ham (pršut) or smoked tongue between the layers of kraut rolls. Next pour the broth of water over the Arambašici, over tightly and cook three to four hours over low heat. Shake casse-role form several timess, never using a spoon to stir! It is best to pre-cook the Arambašici in the evening, and on the following day cook until done.
Arambašici is also delicous in the summer. Should you not be able to find any sauer-kraut in the summer, one can also use fresh cabbage or grape leaves. Sort out the leaves and blanch them with boiling water to soften them. Fill with the Arambašici mixture and cook in the same manner as with the sauer-kraut leaves.
Rožata pudding
INGREDIENTS: 6 eggs - 6tbs. sugar - 1 l milk - grated lemon rind - 1 tbs. Maraschino or rum - vanilla, sugar - 14 sugar cubes
Beat all of the eggs with 6 tbs. sugar and milk, adding lemon rind, maraschino (rum) and vanilla sugar. In a separate pot caramelize the sugar cubes and pour them into an oven safe pudding form before adding the pudding mixture. In a second pot bring enough water to reach up to over the halfway point of the form to a boil and put the filled pudding form into s water bath. cook for 45 min. in the water bath, and before the Rožata is finished cook it for 15 minutes in its form at 180-200 C. After cooling off, carefully turn the Rožata over onto a plate and serve. In summer, one can refrigerate before serving.
Ravioli - Makarska Style
INGREDIENTS: 75 dkg of flower, 6 eggs, 2 spoons of sugar, salt, 22 dkg of butter, milk if neccesserc, For the stuffing:, 50 dkg of almonds, 5 eggs, powder cinnamon, a little nutmeg, 50 dkg of sugar, 2 spoons of rum, maraschino or brandy, grated lemon core, 1 piece of chocolate, 2 spoons of butter
Take 75 dkg of flower, 4 eggs, 2 egg yolk, 2 spoons of sugar, salt, 22 dkg of butter, milk if needed, and beat well and roll into a thin layer and fill with the following stuffing: 50 dkg unpealed, roasted and ground almonds, 3 whole eggs, whipped whites of 2 eggs, a little powder cinnamon, little nutmeg, 50 dkg of sugar, 2 spoons of rum, maraschino cherrie or brandy, grated lemon core, 1 piece of grated chocolate and 2 spoons of butter. Ravioli is cut, stuffed and baked on a temperate fire. In Makarska it is customary to make large ravioli, which they coat with egg white and sprinkle with sliced almonds and vanilla sugar.

Pašticada - Trogir style
INGREDIENTS: 750 g lean beef without bones - smoked bacon - some cloves - 3 garlic cloves - vinegar - flour - 2 tbs. grease - 1 onion - broth of water 1 tsp. tomato paste - 1 glass of Prošek (desert wine) or red wine - 1-2 sugar cubes - sald and papper
Wash the beef (from the leg) and lard it with pieces of smoked beacon, some clove, and garlic (tiny sliced). Evenly marinate the meat for one night or one day in vinegar (turning several times). Next take the meat from the marinade, drain well, and coat in flour. Separately hat two tbs. of grease, and add the meat and the whole onions. Brown the meat on all sides adding the water/broth little by little and let stew, covered. Stir in tomato paste. Next add 1 glass of Prošek or good red wine, and add 1-2 sugarcubes simmering for 3 hours over low heat until the meat is tender and can be cut into thin slices. Pass the sauce through a sieve, and add salt and pepper to taste, and pour over the meat, simmering another half hour over light heat. Serve with pasta and grated cheese.

Top